What Is Forma? Everything You Need to Know About This Celebrity-Fave Facial
Emma Roberts, Elsa Hosk, and Kim Kardashian are big fans of this "non-invasive facelift.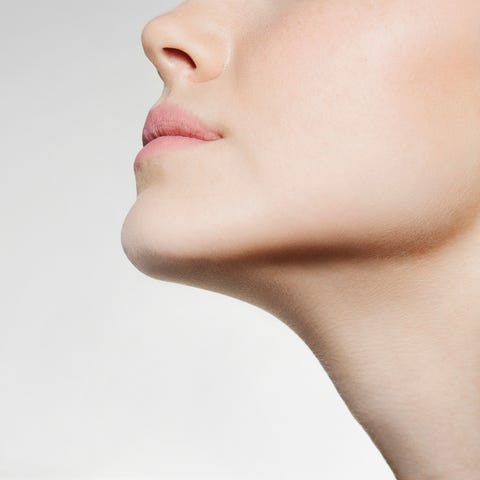 IMAGE SOURCEGETTY IMAGES
You can't deny that when it comes to beauty, no one can set a trend like Kim Kardashian. So it makes sense that when the reality star got a Forma facial, a.k.a what experts call a "nonsurgical facelift," people were enticed. Curiosity spiked even more after seeing Instagrams of models like Jasmin Sanders, Elsa Hosk, and Delilah Belle Hamlin, also having a Forma facial done at Le Jolie Medi Spa in California.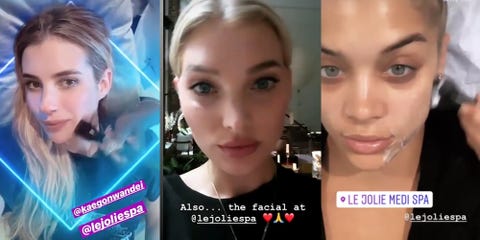 Emma Roberts, Elsa Hosk, and Jasmin Sanders are big fans of the Forma facial.INSTAGRAM
A quick search on Google and you'll see that tons of real people have opted for this skin tightening procedure that takes less than 30 minutes to complete (it's so quick, it's common to get it done during lunchtime). So what is this latest facial craze all about? Here's everything you need to know about the Forma facial.
What exactly is a Forma facial and what are the benefits?
Forma is a non-invasive skin procedure that uses heat and radiofrequency to increase collagen production in your face, therefore lifting, tightening, and contouring your skin. In layman's terms: A heated wand is rubbed up and down your face, giving the feeling like your skin is being ironed. When you're done, your skin is visible brighter, your jaw is more defined, and overall, your face does indeed look lifted.

Are there any negative side effects to Forma?
When I spoke with Dr. Parvaneh Rafaeloff, the founder of of Le Jolie Medi Spa, she said there are absolutely "no risks involved." That being said, everyone is different, and you should always discuss your skin concerns, especially if you have sensitive skin or a chronic skin condition, with your doctor before getting Forma done. If you are considering any skin treatment, including Forma, only go to an experienced and reputable professional.
You'll notice after your treatment that the skin can turn red after the procedure due to the heat, however most people say that it subsides in less than an hour. Since it's extremely noninvasive, there is essentially no downtime.
Who is Forma good for?
Forma is good for everyone, says Dr. Rafaeloff. "We see younger patients coming in for prevention or a more defined look, and older patients coming in for the lift and tighten without needing invasive surgery." Clients of Dr.Rafaeloff who get Forma done range from their 20s – 80s.
Does Forma hurt?
While the Forma wand does heat up to about 109 degrees, it's considered a pain-free procedure, especially because you can ask for a numbing gel (although it's not necessary). Many people describe it as getting a hot stone massage on your face. However, the heat settings are manual, meaning when it comes to more sensitive areas around the eyes, it is lowered to avoid any pain.
How long do Forma results last?
With just one session, your results will last for a few weeks. However, Dr. Rafaeloff says depending on your goal, it's best to do multiple sessions. In fact, she says with a series of sessions and yearly maintenance, results can last up to 4 years.